New Taipei Mayor Tells Police Chief to Protect Falun Gong or Lose Job
By Larry Ong, Epoch Times | December 25, 2014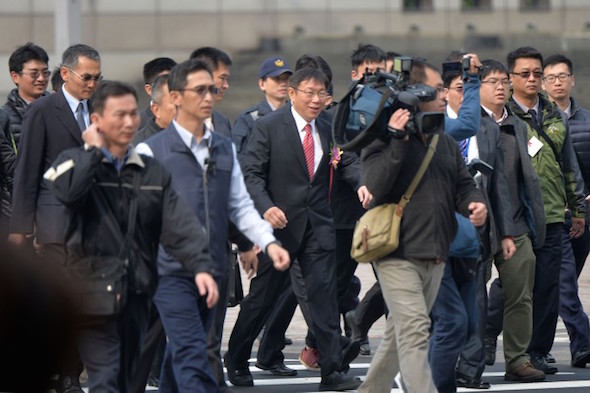 On his first day as Taipei mayor, Dr. Ko Wen-je promises to take action against the city's police chief if his men fail to uphold the law again.
While walking to Taipei's city council on the afternoon of Dec. 25, Dr. Ko turned to Xinyi Precinct Taipei City Police Department chief Lee De-wei, who was accompanying him, and said sternly: "If Falun Gong practitioners are assaulted again, I will replace you."
Taipei police have come under scrutiny recently for turning a blind eye towards a violent pro-Beijing group that targets Falun Gong, a peaceful spiritual practice that has been persecuted in mainland China since 1999.
Since 2009, Falun Gong adherents in Taiwan have positioned themselves outside the iconic Taipei 101 skyscraper, offering mainland tourists materials exposing the Chinese regime's crimes against Falun Gong.
The Chinese Communist Party has backed several overseas groups to carry out their attacks against Falun Gong beyond China's borders. In Taiwan, the Concentric Patriotism Association of ROC ("ROC" is an acronym for the Republic of China, Taiwan's official name) is one such group. It has links to the Communist Party's United Front Work Department, which handles some of the regime's overseas agitation and infiltration activities.
In September this year, the Patriotism Association verbally abused and used flagpoles to attack Taiwanese Falun Gong practitioners at Taipei 101. Taipei police were unusually restrained in handling the affair, failing to make on-the-spot arrests or closely monitor the Patriotism Association even when there has been ample video evidence of their abuses and violence.
While campaigning to be Taipei's mayor, Dr. Ko promised that if he takes office, he would personally speak to the Taipei police chief about having him replaced if the Patriotism Association persist in their mischief, and especially if videos started circulating on Youtube.
On Thursday, with Dr. Ko was barely appointed mayor for one day, he fulfilled his election promise by cautioning Lee De-wei.
Chang Ching-hua, director of the Taiwan Falun Dafa Association, welcomes Dr. Ko's stance and affirmation that the Taipei government is serious about dealing with the Patriotism Association issue.
"We support the police protecting freedom of speech, the rule of law, and peaceful expressions of freedom," said Chang.