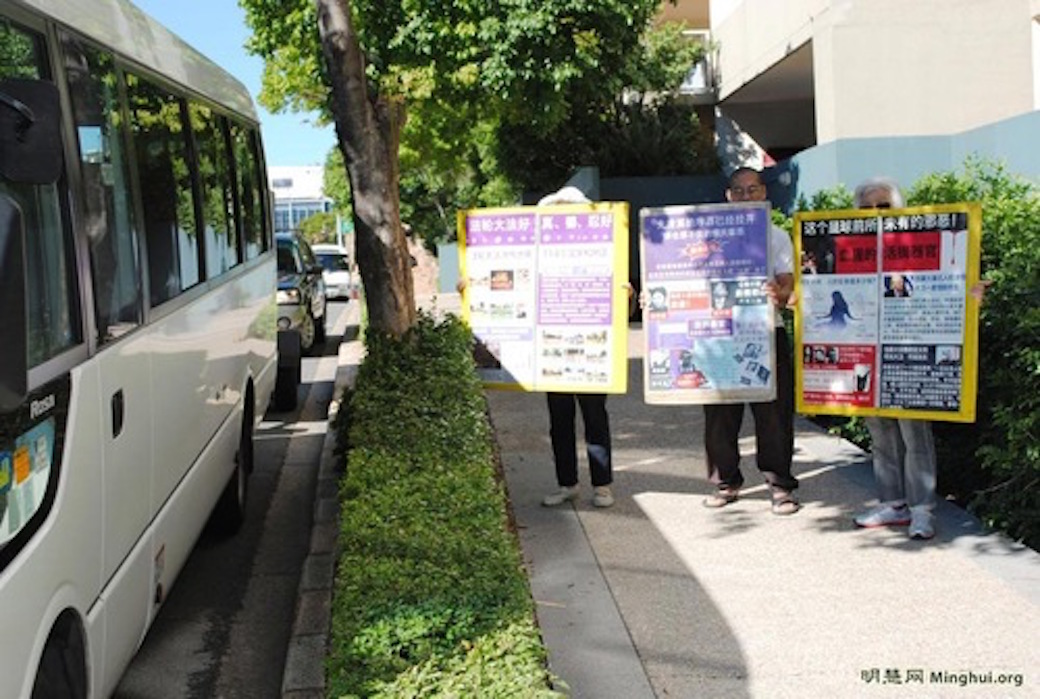 Australia: Residents of Queensland Support Petition to End Organ Harvesting in China
By Zhao Lin in Australia
(Minghui.org) Li Jing, a volunteer who has been to Brisbane's Chinatown for years to raise awareness of the persecution of Falun Gong in China, noticed that more people are taking the initiative to sign a petition to stop the Chinese regime's killing of practitioners for their organs.
It started after SBS TV station aired the documentary Human Harvest during its Dateline program on April 7, 2015. The documentary exposed the Chinese regime's state-sanctioned harvesting and trafficking of organs from prisoners of conscience. The film, which includes testimonials from medical doctors, a Chinese policeman, and a transplant patient, received a prestigious Peabody Award earlier this year.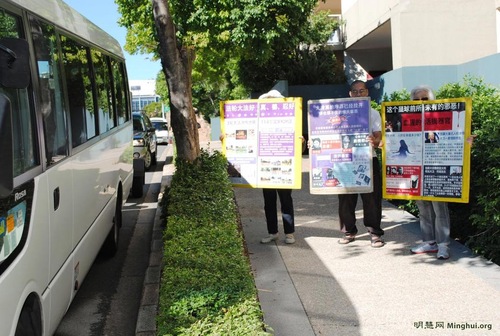 Falun Gong practitioners in Brisbane's Chinatown use display boards to tell Chinese tourists about the persecution in China.
"It is so important!"
One day, Ms. Li was collecting signatures on a sidewalk when a man in a suit parked along the curb nearby. He was about to walk away but saw Ms. Li and the petition forms. He came to her, read the form, and signed his name. He nodded to her and left.
Two young women passed by Ms. Li when one told the other, "You must sign it! It is so important! Sign now!"
At a bus stop, an old woman recognized Ms. Li and gave her a big hug. "I had met you ten years ago in downtown, and I meet you again here," she said and began to weep. "Is the persecution still going on? It is so sad."
One day, a couple pushing two strollers passed Ms. Li. One of their 3-year-olds in a stroller extended his hand for a flier, but his parents didn't stop. While waiting at a traffic light to cross the street, the boy suddenly jumped out of the stroller and ran back to Ms. Li. He quickly took a flier and returned to his stroller. When the family returned, the parents signed their names and said they support Falun Gong. The boy smiled happily in the stroller.
Chinese Tourists: Falun Dafa is Good!
Many Chinese tourists come to Chinatown during their tour of Brisbane. One day, a group of Chinese tourists walked by Ms. Li. She urged them to quit the Chinese Communist Party and its youth organizations. A tall man said to her proudly, "Do you know where we are from? We are from Changchun, your Master's hometown."
He registered to quit the Party and persuaded others in the group to quit. Many of them did. He chanted, "Falun Dafa Hao (Falun Dafa is good)!" The others echoed, "Falun Dafa Hao!"