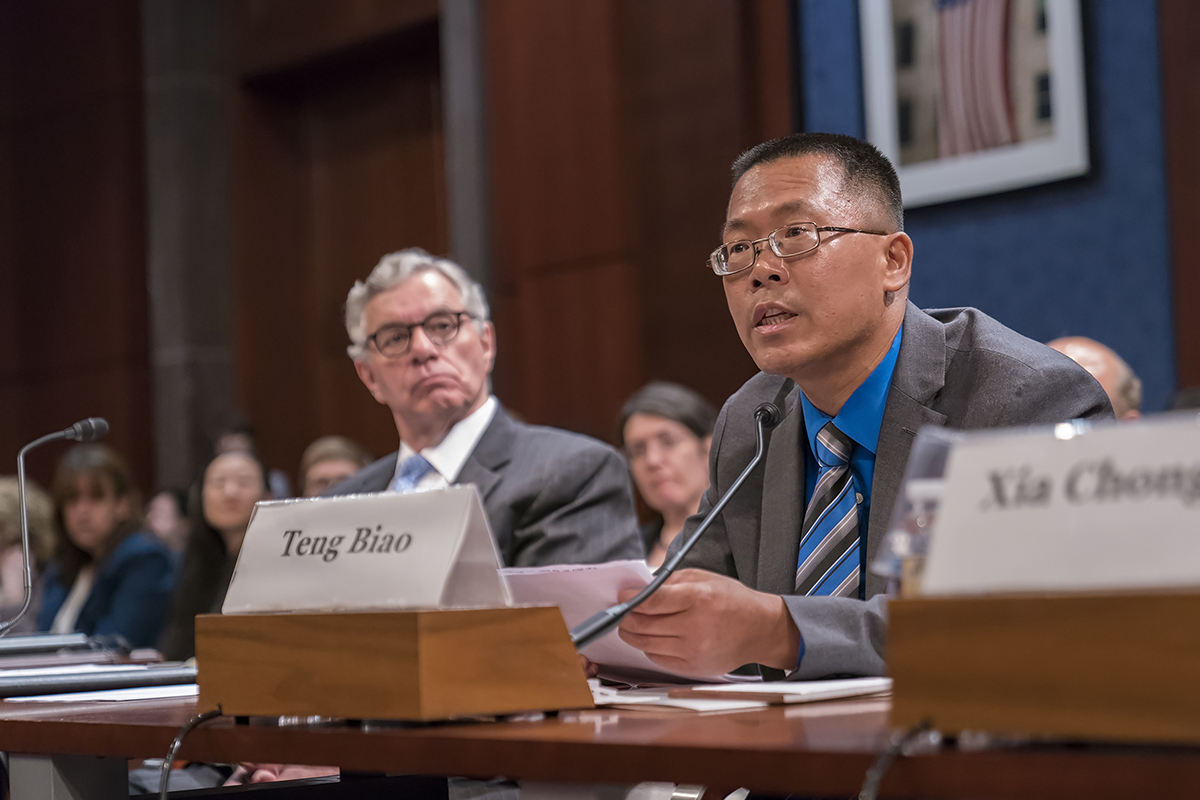 Public Shame is Best Weapon for Chinese Human Rights: Congressional Hearing
Amidst reports of the Chinese regime's continuing persecution of its political dissidents and rights advocates, witnesses before the Congressional-Executive Commission on China (CECC) slammed the Chinese Communist Party's human rights abuses in a public hearing on June 28. To help curb the regime's gross mistreatments of dissidents, the U.S. government must confront China firmly and publicly since the regime has "very thin skin," according to one expert witness who testified.
Speaking of the attempts by U.S. Congress to seek redress for the persecuted dissidents in China, CECC co-chairman Congressman Chris Smith (R-NJ) said that he had heard too many reports of the "horrifying and sadistic accounts of torture and enforced disappearances experienced by [Chinese] lawyers and rights advocates."
Xia Chongyu, son of the imprisoned Chinese human rights lawyer Xia Lin testified at Wednesday's hearing that due to his campaign for his father's case, Chinese regime agents had threatened his family and friends back in China. Currently living in the United States and enrolled as a student at Liberty University, Xia Chongyu has gathered more than 90,000 signatures petitioning for his father's release.
CECC co-chairman Senator Marco Rubio (R-FL) asked the panel witnesses whether it would be a good idea at all for the U.S. government to voice some of the human rights concerns more privately and discreetly to its Beijing counterpart, in the hope that the dissidents might receive better treatment or be released early.
Terence Halliday, co-director of the Center on Law & Globalization at the American Bar Foundation opined that based on his experience working with many rights activists in China, "there is absolutely no doubt that Chinese regime must be spoken to publicly and the Chinese government must be publicly shamed."
According to Halliday, whenever there is an international call for the release or news about a particular jailed dissident in China, his or her treatment is noticeably improved. "The Chinese government has very thin skin," said Halliday.
The congressionally mandated CECC is noted for its vocal criticism of China's human rights abuses, persecution of religious and ethnic minorities, and Beijing's strong-armed control of Hong Kong. In the past few years the CECC's approaches were in sharp contrast to that of the Obama administration, whose State Department preferred low-key, discreet communications with the Chinese regime when it comes to issues related to human rights.
The CECC and many rights activists on the other hand believe that the Chinese regime can only be held accountable for its human rights abuses by exposing its misdeeds to the world. "The Chinese government doesn't want to lose face," said Xiaorong Li, an independent scholar who testified on Wednesday.
Chris Smith said that U.S. leadership is more important than ever when it comes to human rights in China, as China's growing economic power and persistent diplomatic efforts have succeeded in dampening global criticism of its escalating repression.
"We cannot, and will not forget those in China bravely seeking liberty and justice and the unalienable rights we all share," said Chris Smith.
Source: China Must Be Publicly Shamed for Human Rights Abuses, Say Activists