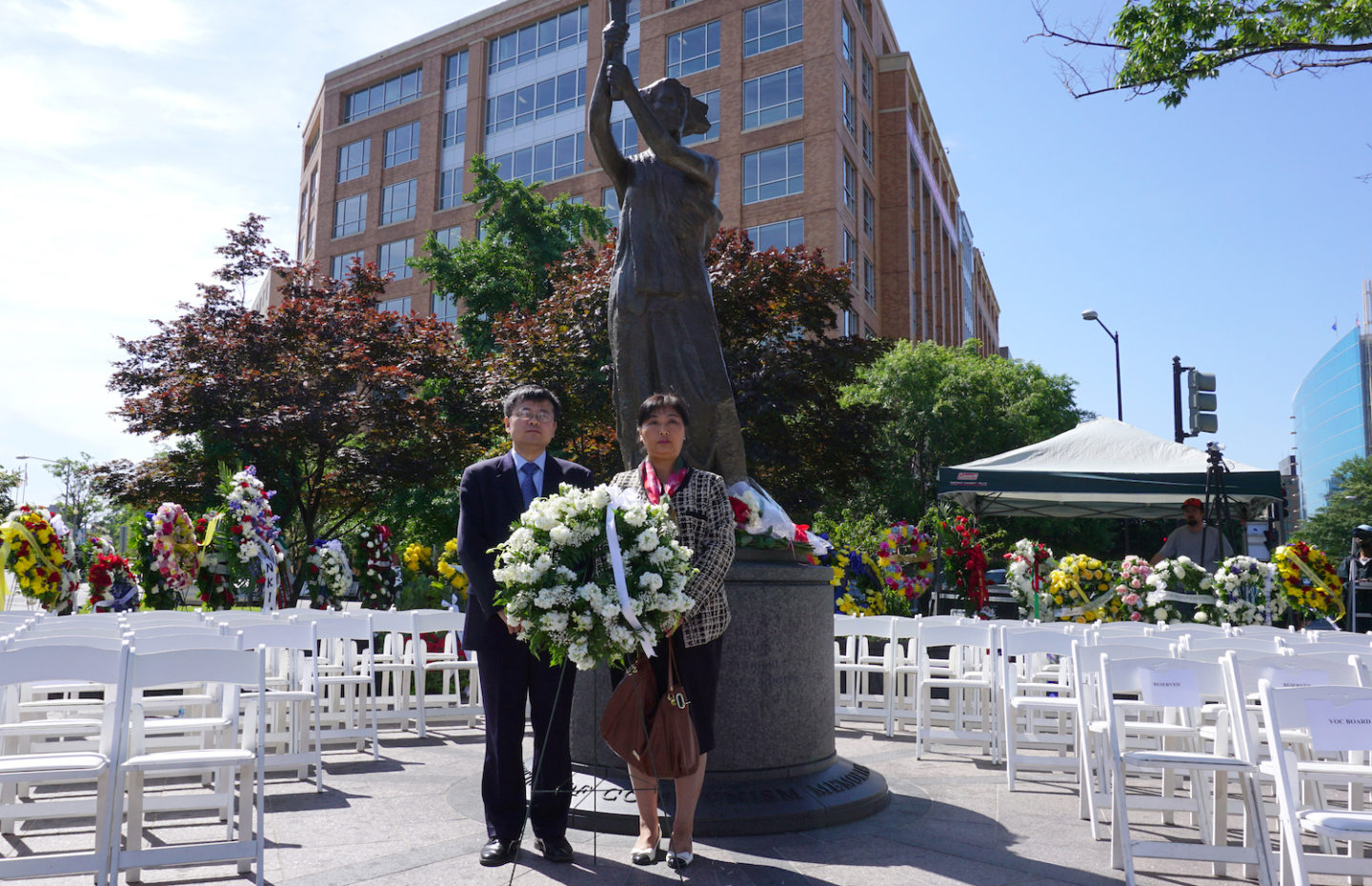 FoFG Lays Wreath at 'Victims of Communism' Memorial
At a June 10 wreath-laying ceremony in Washington, D.C., Falun Gong practitioners joined the Victims of Communism Foundation in commemorating the lives of millions whom have died under communist tyranny. The ceremony was attended by nearly 50 representatives, including persons from civil society, embassy officials and dignitaries.
Representatives from Friends of Falun Gong presented a wreath at the memorial for those Falun Gong practitioners persecuted to death by the Chinese Communist Party (CCP).
Since 1999, the CCP has mobilized its police force and legal system to arrest, detain, and torture countless numbers of Falun Gong practitioners living in China. Evidence has shown that the CCP conducts forced organ harvesting on live Falun Gong practitioners, which is among the cruelest methods of persecution.
One Falun Gong practitioner in attendance told the Chinese edition of Epoch Times:
I have suffered three times being illegally detained, dragged out and beaten daily. I've suffered a lot of damage mentally and physically. Some of my family was afraid that I would have implicated them and cut ties with me. At the end there was no one to take care of my daughter and parents. It's been very, very painful.
While China's information censorship makes it impossible to accurately tell the number of Falun Gong practitioners lost during the ongoing genocide, based on the number and severity of reports that have made it through, Falun Gong is the largest group of people targeted by the world's major remaining communist regime today. In total, an estimated 80 million Chinese lives have perished at the hands of the CCP since its establishment in 1921—greater than the death toll of both world wars combined.
The Victims of Communism Memorial Foundation is a U.S-based, nonprofit educational organization, established by an Act of Congress to build a memorial in Washington, D.C. The foundation commemorates the 100+ million victims of communism with an annual memorial ceremony that begins with the laying of wreaths and proceeds to the Roll Call of Nations.