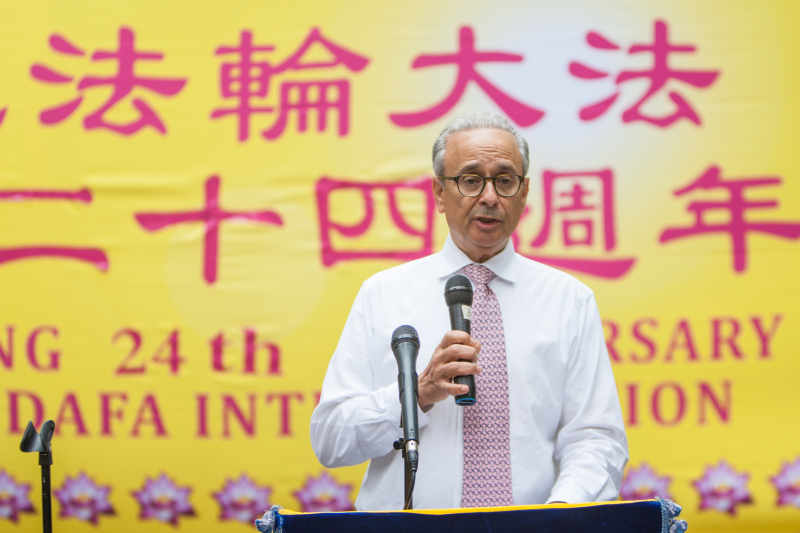 Friends of Falun Gong Support Chinese Citizens at 2016 Celebration
[Photo Caption: Friends of Falun Gong Executive Director Alan Adler speaks at New York City celebration of World Falun Dafa Day]
Millions of people around the world support Falun Gong practitioners' freedom of belief. We, Friends of Falun Gong, recognize every person's right to uphold Falun Gong's cherished principles of Truthfulness, Compassion and Forbearance, because they truly belong to all of humanity.
We also acknowledge Falun Dafa's distinction as one of the most significant moral and spiritual movements in the world today.
Facing evil head-on, these meditators calmly persevere and actively use the truth to counter persecution and defend their peers from further abuse.
For the past 17 years, courageous Falun Dafa practitioners have peacefully resisted a massive, brutal, systematic persecution campaign within the People's Republic of China. In 2015, Freedom House reported that in the ten years between 2002 and 2012 alone, "hundreds of thousands of [Falun Dafa] adherents were sentenced to labor camps and prison terms, making them the largest contingent of prisoners of conscience in the country."
Since 1999, China has been an environment of terror like no other. We have confirmed reports of more than 3,800 innocent men and women killed by torture while wrongfully imprisoned; thousands more have been cruelly maimed or disfigured. Given China's lock-down on information, however, these conservative numbers may, in reality, be much higher. Still, there is no question that countless Falun Dafa practitioners remain entirely unaccounted for, following unjust arrest or detention. One shudders to imagine what evils befell them.
In 2006, international human rights lawyer David Matas, and former Canadian Secretary of State for the Asia-Pacific region, David Kilgour, published a preliminary report with evidence of healthy hearts, lungs, livers, and kidneys being forcibly harvested from living Falun Gong practitioners in China. They concluded that a minimum of 41,500 organs, transplanted in China between the years 2000 and 2005, had no other plausible source.
Today, experts believe this heinous crime continues in China, while the estimated number of Falun Gong practitioners murdered for their organs exceeds 100,000, and quite possibly could be more than double that amount.
Regardless of your religious or spiritual beliefs, I am certain that every person here would agree that such an appalling exploitation of human life defies any definition of morality. In the words of David Matas, this is "a form of evil the world has never seen before."
You might wonder how this could happen; who could do such a terrible thing and think they could actually get away with it?
The Chinese Communist Party—the CCP—a staunchly atheistic, totalitarian regime, has for the past 60 years discarded and desecrated the moral beliefs and rich spiritual heritage of ancient China.
The CCP has failed to understand that traditional ideals like benevolence, honor, integrity and tolerance, form an essential foundation for healthy societies everywhere, and that any war against such virtues represents a cancerous threat to the global human body.
As a result of China's CCP-directed degeneration, Falun Dafa practitioners have long borne witness to the horrors of forced labor camps, torture chambers, and secret operating rooms. The question now is: "When will it end?"
Step by step it is ending, with the help of advocates like you. By spreading awareness to those around you, you are eliminating the dark corners where evil can hide. By opening eyes and changing minds, you are turning the tide.
Today, 240 million Chinese, and counting, have realized the hopelessness and danger of placing their faith in the CCP—a totalitarian regime that puts profit over humanity. In turn, they have chosen to renounce their memberships with the Party and its affiliated organizations.
Additionally, victims of the persecution against Falun Gong have recently filed lawsuits in the hundreds of thousands, utilizing China's legal system in an effort to hold Jiang Zemin, former head of the CCP, accountable for orchestrating the persecution.
Large-scale grassroots movements like these are unprecedented in China's 5000-year history.
Ultimately, true friends of Falun Gong must support the people of China in their efforts to end communist tyranny.
Through China's enforcement of an independent judicial system, Jiang Zemin and his faction can be brought to justice, along with any others responsible for sustaining the persecution against Falun Gong.
Falun Dafa is a monumental force for good, in righting the future for China and for the Chinese people. As more people in China look beyond the specter of communist totalitarianism, earnestly seeking inclusion within the international community, we must help them dissolve the mass detentions, brainwashing, torture and organ harvesting. As that spark of hope catches, the more clearly will it light China's way.
When the persecution of Falun Gong comes to an end and its perpetrators meet with justice, when Falun Dafa is practiced freely in China once again, at long last can people everywhere step into the future they have awaited.