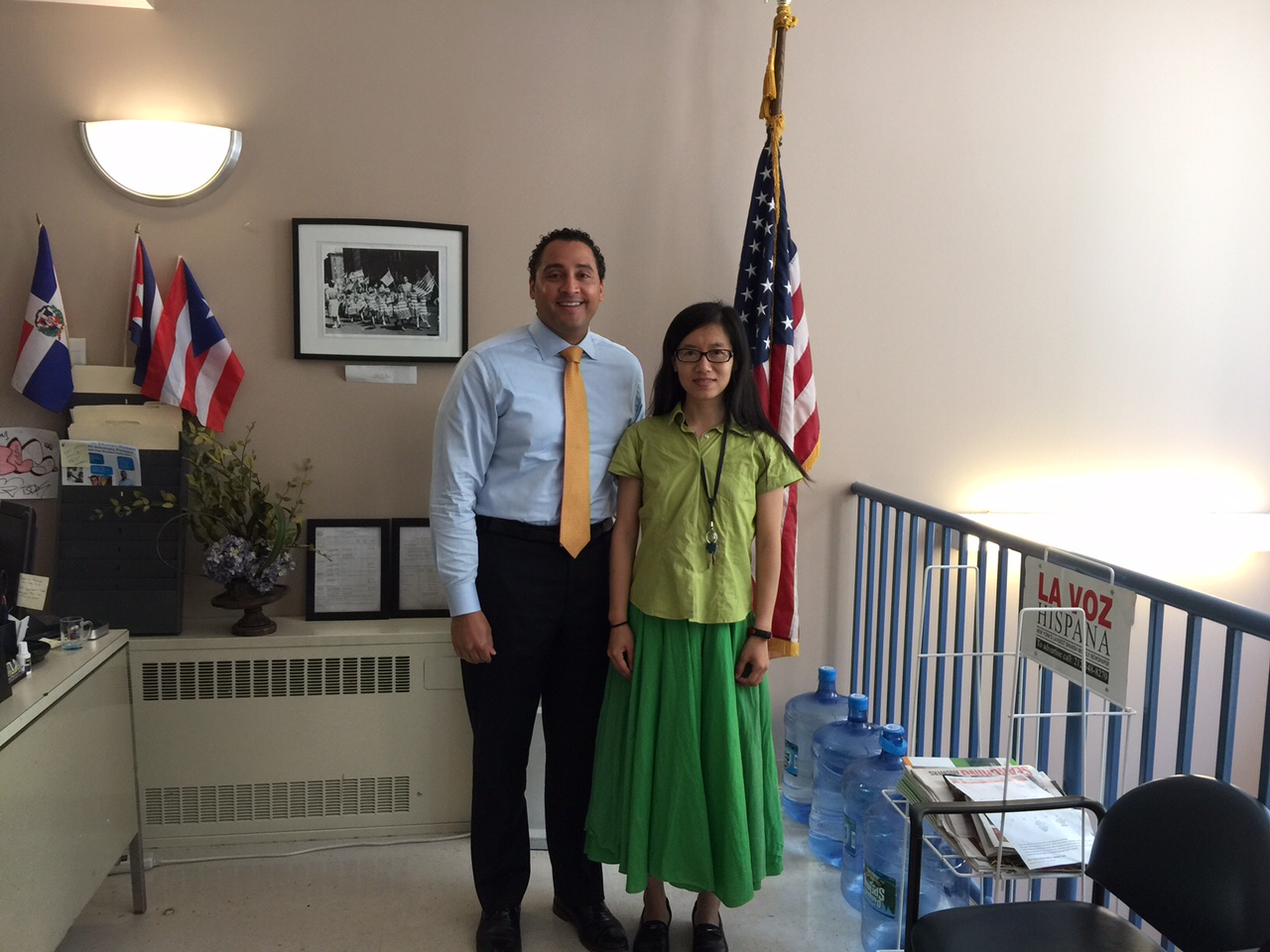 Pan Qi and Tian Yunhai: A Decade Later
[Photo Caption: Pan Qi with New York State Assembly Member Robert J. Rodriguez]
Fifteen New York State Assembly Members Influence the Release of Chinese Prisoner of Conscience Tian Yunhai
By Helena Zhu
Pan Qi, a New Yorker of six years who fled from China to escape persecution, received a phone call this summer that would change her life: "Tian Yunhai is released."
While oceans and entire continents have separated Pan and her fiancé Tian for the past ten years, the most formidable barriers between the couple have been the walls of Tian's Chinese prison cell and the circumstances brought about by the Chinese Communist Party's (CCP) brutal persecution against the peaceful spiritual practice of Falun Gong. Due to the dangerous situation in China, and in accordance with her status as a U.N. asylee, Pan has been unable to return to China for so much as a visit.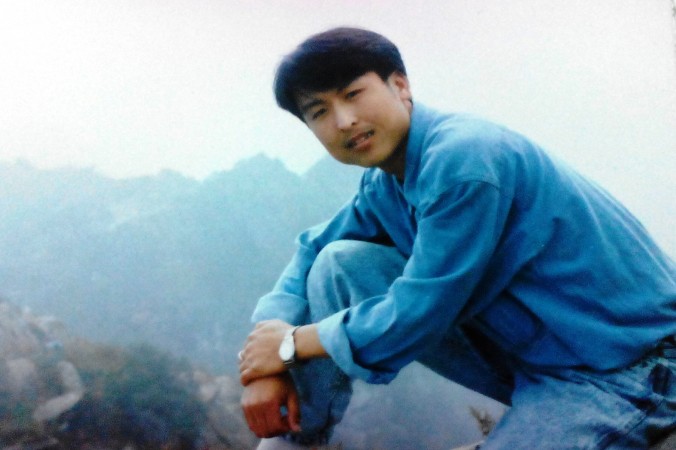 Tian Yunhai, a former railway manager in China, was illegally imprisoned in 2005 for practicing the traditional meditation discipline of Falun Gong, a set of moral teachings and meditation exercises from the Buddha school that grew hugely popular in China during the 1990s. Although Falun Gong practitioners constituted a loosely-organized group that was by no means political in nature, China's one-party government came to perceive Falun Gong's massive population of practitioners as a potential threat.
"The last time I saw him was nine years ago," Pan said in an interview, referring to her September 2006 visit to Panjin Prison. "We met in the Falun Gong circle, but at that time we weren't officially dating. It was because the prison only allowed immediate family as visitors that we called ourselves a couple," she chuckled with a bittersweet humor.
Pan herself was also illegally imprisoned after the circle of Falun Gong practitioners she associated with were unjustly arrested. Authorities likely identified Tian as the "leader" of the group, as they sentenced him to a much longer prison term than others. The group's arrest was the result of the unconstitutional, nation-wide ban on Falun Gong that the CCP launched in 1999.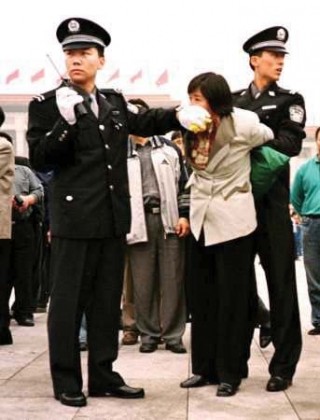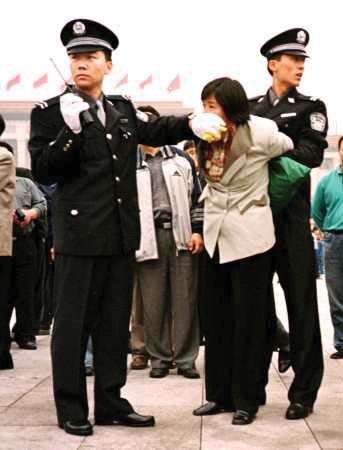 With the whole of China under such conditions, September 2006 was the last time authorities allowed Pan to see Tian; it was four months into a hunger strike he began in protest of tortures the prison guards were inflicting upon him, such as being shocked by electric batons and beaten about his entire body.
"He was held, dragged, then carried by two people to see me. He was very pale," Pan said. "I could only tell him that I supported him, that I would petition for his release, and that I would wait for him, to which he nodded." Later, Pan learned that during this period Tian was still shocked by electric batons, force fed, and strapped to a "tiger bench" for over fifty days. Tian's hunger strike lasted for eight months.
After that, Pan found herself under increasing pressure and danger. Local police paid regular visits to her residence because they knew she practiced Falun Gong. Meanwhile, the prison threatened to arrest her should she persist in requesting to visit Tian. Finally, sensing an imminent threat to her own livelihood, Pan left China.
Months later, on the run without any travel papers, Pan managed to cross the border into Thailand, seeking asylum. From there, she eventually made her way to New York City in 2009, where she began her new life. Pan had reached safe harbor away from the injustices of the CCP, but she now found herself even further removed from her distant fiancé, who was as yet unable to share in her newly-gained freedom.
"By myself, I am not very strong," Pan confesses. "Sometimes I felt lonely. Other times, my family rushed me to find another man. They said the fact that I was petitioning for Tian's release was enough for him, but my heart wasn't moved. I had made a promise that I would wait for him for ten years. I felt that was something I should do. Everybody thought I was crazy to wait."
Settling down in her new home, Pan used her free time to alleviate her fiancé's ill treatment. She frequently braved all weather conditions to stand in front of the Chinese consulate, by the Hudson River between 43rd and 42nd streets, holding a placard that pleaded for Tian's release. Eventually, through the help of a friend in the Falun Gong community, fifteen members of the New York State Assembly conscientiously intervened, assisting Pan by writing letters to five Chinese officials including President Xi Jinping, Li Xi, Zhang Fan, Chan Chengfan and prison warden Wang Bin, pressuring them to release Tian.
Through the honorable actions of New York's state officials and Pan's own perseverance, Tian was released on June 30, 2015. Although Pan cannot go back to China, she is now a U.S. citizen, and says "we are looking into [Tian] coming to the States. He is adjusting to life outside of prison, and is still recovering from health complications from torture, but we get to talk on the phone sometimes, and it's nice."
Fifteen NY State Assembly Members Helped to Rescue Mr. Tian Yunhai
(Each member wrote five letters.)
Robert J. Rodriquez
Karl A. Brabenec
Marc W. Butler
Michael J. Cusick
Steven Englebright
Michael Fitzpatrick
Mark Johns
Michael Kearns
Peter A. Lawrence
John T. McDonald III
Victor Pichardo
Andrew P. Raia
Angelo Santabarbara
Fred W. Thiele
Erik Martin Dilan