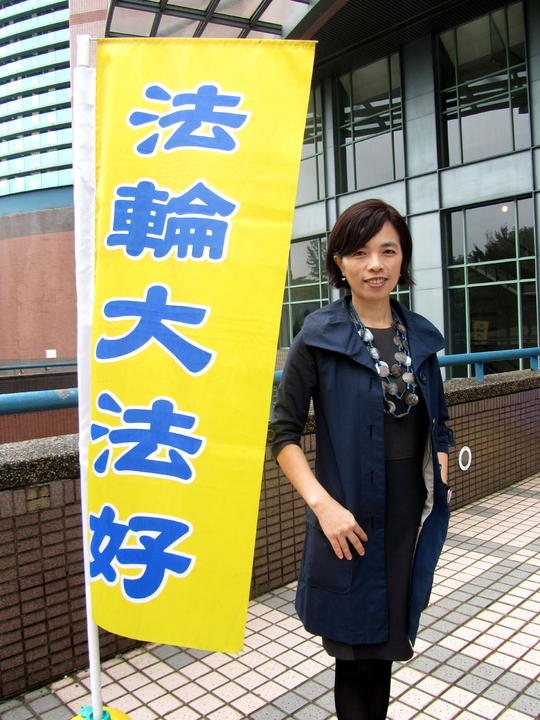 Three Individuals Share How Falun Dafa Has Benefited Them
November 22, 2014 | By Zheng Yuyan in Taipei, Taiwan
(Minghui.org) Falun Dafa brings about the improvement of people's moral standards. Those who attend Falun Dafa experience sharing conferences seek to improve themselves further by listening to others. The three Falun Dafa practitioners profiled below shared their experiences at a conference in Taiwan on November 9.
Inner Peace after Relinquishing Jealousy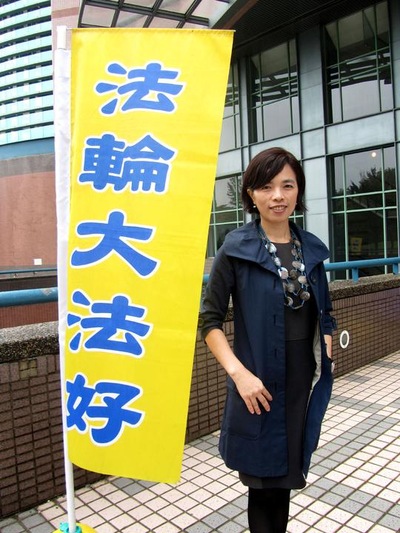 Ms. Zeng Bijing, a practitioner from Taoyuan, stands next to a banner that reads, "Falun Dafa Is Good."
From the time she was a child, Ms. Zeng Bijing often pondered the meaning of life. She couldn't find the answer in any of the qigong practices she tried. Then her uncle gave her a copy of Zhuan Falun, Falun Dafa's primary text. "Finally, I found what I was looking for," said Ms. Zeng. All of her questions that had troubled her for so long were finally answered.
From practicing Falun Dafa she has learned to identify and resolve the source of unpleasant feelings. A recent incident prompted her to analyze her state of mind, where she identified jealousy.
Before taking up the practice of Falun Dafa, Ms. Zeng made a mistake, which she later benevolently resolved by following Falun Dafa's teachings. What happened was that her boss employed one of his relatives, who was beautiful and well educated. Ms. Zeng was jealous of her new colleague and made things so difficult for her that she eventually left the company.
After Ms. Zeng began to practice Falun Dafa, she later bumped into this former colleague at a wedding and sincerely apologized to her for her poor behavior.
"I have been conducting myself according to Truthfulness-Compassion-Forbearance in the 10 years I've been practicing Falun Dafa," said Ms. Zeng, who says she feels "spiritually uplifted" as a result of the practice.
Falun Dafa Is Miraculous!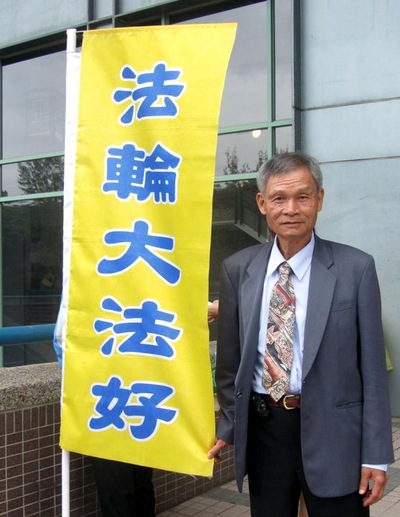 Cai Kunquan, a practitioner from Taichung City
Mr. Cai Kunquan's son had an enlarged spleen and severe allergies and was very weak. A traditional Chinese medical doctor told him to look for help elsewhere because he couldn't cure him.
A colleague suggested to Mr. Cai in December 2000 that he practice Falun Dafa. Because Mr. Cai advocated another qigong practice, he felt awkward seeking help from Falun Dafa. So he asked his wife and son to give Falun Dafa a try first.
Within three days, his son's allergies and his wife's chronic cough disappeared. Mr. Cai then realized the miraculous healing efficacy of Falun Dafa.
Despite having practiced another qigong practice for years, Mr. Cai still had urological cancer and cirrhosis of the liver. Without hesitation, he then began practicing Falun Dafa, too.
Three weeks into it, he began to experience his body being cleansed. He would have headaches as soon as he got home after work. The pain would last until 3:30 a.m. and then he would sleep soundly for the rest of the morning.
This repeated for a week and then disappeared, along with all his cancer symptoms. During a company physical, doctors discovered that his cirrhosis had disappeared, too.
"Even before I started the other qigong, I had always been in search a true cultivation practice. I've found that Falun Dafa is a true cultivation practice, a ladder that leads to heaven," said Mr. Cai.
"I Felt So Lucky to Have Found Such a Great Practice."
Lin Zishiun, a Falun Dafa practitioner
Since the spinal injury he sustained serving in the military, Mr. Lin Zishiun had sought treatment in Western and traditional Chinese medicine, but in vain. He tried practicing qigong and did so for 20 years. He later stopped, feeling it was limited and unable to guide him.
After a colleague told him of the healing power of Falun Dafa in 2000, Mr. Lin was inspired and read Zhuan Falun online. "I was very impressed," said Mr. Lin. "How can one person explain the complexity of the universe in such plain language? It's also so systematic and thorough. I instantly developed respect for Master Li and started Falun Dafa cultivation practice."
He continued to read Master Li's other lectures given in different cities. "I was in awe! The lectures explain things in even more detail. I loved them. No matter how busy I was, I read one every day. I felt so lucky to have found such a great practice," said Mr. Lin.
He used to be a factory director at a cement plant. A few years ago, he resigned from that position and accepted a position at Niaosong Middle School (Feitian Academy of Art).
"I've improved my moral standard since practicing Falun Dafa. I no longer pursue fame and gain and am more generous and broadminded," he said.
Source