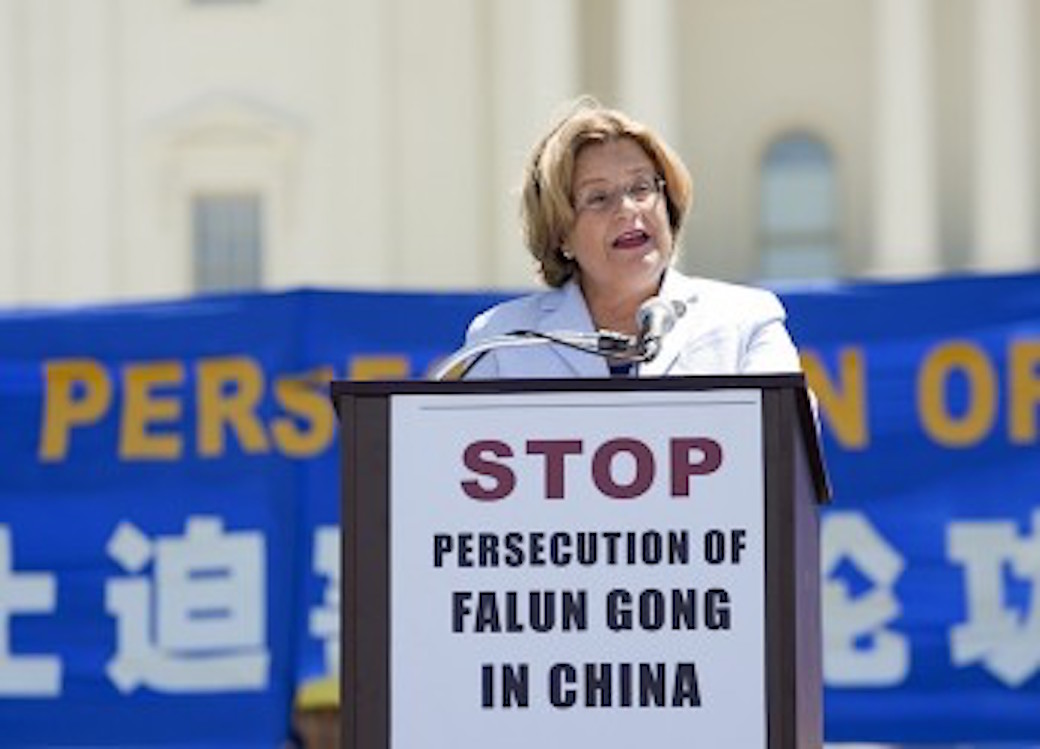 Members of Congress and NGOs Unified Against Persecution of Falun Gong
By Fae Price
A rally was held at the United States Capitol in Washington, D.C. to mark the 15th anniversary of the Communist Chinese regime's persecution of Falun Gong. These leaders, along with thousands of Falun Gong practitioners, attended, sent letters, and made speeches to call for an end to the Chinese Communist Party's (CCP's) crimes against humanity.
At the event, thousands of confirmed dead Falun Gong practitioners, who were tortured and executed by the Chinese regime were honored. They died from torture and abuse while being held in prisons, detention centers, labor camps, and brainwashing facilities. It is believed that tens of thousands more have been murdered for their organs, which are used for transplant sale. Millions of living Falun Gong practitioners inside China were also honored for practicing "civil disobedience on a scale unprecedented in China's history."
Chloe Schwenke, vice president of global programs at Freedom House, stated in her speech, "We at Freedom House applaud these values [Truthfulness-Compassion-Forbearance] as exemplified by Falun Gong practitioners and their long struggle for dignity and freedom." Freedom House awarded its 2001 International Religious Freedom Award to Mr. Li Hongzhi, founder of Falun Gong.
"The Chinese government's campaign against Falun Gong has been, and continues to be severe, brutal, ugly, and vicious. Tens of thousands of Falun Gong practitioners have been detained and arrested, sent to prisons or re-education camps, or been subject to long and brutal interrogations, beatings, sleep deprivation, and other forms of torture. Human rights movements have documented more than 3,000 deaths of Falun Gong practitioners from torture and mistreatment—individual beings whose stories will largely never be told,"
Dan Fefferman, president of the International Coalition for Religious Freedom, congratulated practitioners for their courage to stand up to the persecution and spoke of why the CCP has put so much into suppressing Falun Gong: "The answer is simple … because deep in their hearts, the communists know the truth. Human beings are not matter in motion. They are spiritual beings with creativity, freedom, and will. Creativity, freedom, and will do not come from matter. They come from the spirit. So when people who adhere to the materialistic ideology cling to their power, they naturally feel fear when they confront a movement that exposes their ideology as evil and false!"
In China, the CCP is constantly pushing propaganda and slander against Falun Gong to the Chinese people. William J. Murray, chairman of the Religious Freedom Coalition, was in China last year and talked to many Chinese citizens. Murray found some would criticize China's past, particularly the Cultural Revolution and China's current one-child laws. "However, when I brought up the subject of the repression of Falun Gong, I was met with silence. The other subject no one wanted to talk about was [forced] organ harvesting from prisoners in China …"
The pressure to do something about the forced organ harvesting of Falun Gong adherents and other prisoners of conscience was mentioned often and by nearly all the speakers. In the House of Representations, HRes 281, calls for China to immediately end the practice of organ harvesting of all prisoners, particularly Falun Gong, and it calls for a full and transparent investigation by the State Department. And it has garnered the "significant bipartisan support" of 182 cosponsors, said Congresswoman Ileana Ros-Lehtinen (R-Fla.).
The resolution condemns "the systematic, state-sanctioned organ harvesting from non-consenting prisoners of conscience in the People's Republic of China." It was introduced by Ros-Lehtinen and her colleague former Congressman Robert Andrews (D-N.J.). It calls for China to immediately end the organ transplantation system: "Waiting times for organ transplant in China are extremely short, with hospitals advertising the availability of a kidney or a liver in mere days. Falun Gong participants' organs have been dissected and stripped from their bodies, in order to meet the needs of a vast organ transplantation system. These Falun Gong followers are sacrificed as living donors, removing their vital organs at the convenience of the transplant recipient."
Last year, the advocacy group Doctors Against Forced Organ Harvesting delivered to the U.N.'s High Commissioner for Human Rights a petition with 1.5 million signatures calling for an investigation into China's killing of prisoners of conscience for the sale of their organs. Congressman Aaron Schock (R-Ill.) wrote a letter to the rally that was read aloud. "These [organ harvesting] practices violate every tenet of human rights imaginable, and I am proud to have cosponsored this bipartisan resolution."
Two Congressmen, Chris Smith (R-N.J.) and Dana Rohrabacher (D-Calif.) placed the 15-year persecution in the wider context of history in the grand sense. Smith couldn't make it to the podium because he had to be at Congress for a vote, but his speech was read aloud: "The brutal campaign to eradicate the Falun Gong from China is one of the greatest shames of the last two decades. Every year you assemble in Washington to remind us of this crime against humanity. …What kind of country murders, tortures, imprisons peaceful individuals seeking enlightenment in meditation and health? Can we trust such a country as an ally? As a security partner? As a trusted partner in trade? Of course the answer is 'No.'" Rohrabacher said, "The fact is communism is in the ashes of history … all it did was oppress millions of people. … Decent people have to step up and say communism is wrong, it didn't work. It was a nightmare, rather than a dream. … It's time for all of us to respect the human rights of every person on this planet, and that is especially true of religious believers."
Kansas Congresswoman Lynn Jenkins said: "The atrocities being carried out on the Falun Gong practitioners in China is reprehensible. The practice of non-consensual organ harvesting is, for many of us, materials for nightmares or horror films. But hundreds and thousands of Chinese families who have brothers, sisters, parents, grandparents, or friends who are locked away in detention camps for practicing Falun Gong, this nightmare is very real. Your support for these victims can generate social change. Your voices have already reached the shores of China. I want you to know that the American Congress stands behind you and your effort to counter the Chinese Communist Party and the abuses, and change the dangerous rhetoric surrounding the Falun Gong practice," she continues in her support letter that her assistant read at the rally.
Zhang Erping, a Falun Gong spokesperson said: "We have seen the remarkable change in the public's reaction regarding the persecution of Falun Gong. Members of international communities are particularly concerned on the organ harvesting issue because this is the most evil crime in this modern day. This is precisely why the EU Parliament passed an urgent resolution last December, the U.S. Asia committee similarly marked up a similar resolution during the same month."
Congressman Chris Smith, a veteran legislator known for his efforts to promote human rights, is working on a bill to sanction individual human rights offenders in China with visa denials and financial penalties. The rally ended with his support: "I commit to continue to hold hearings, to promote resolutions, to speak to Chinese diplomats and the administration. I intend to hold the Chinese government to account for the pain, suffering, and death this needless campaign against Falun Gong has produced."
Many members of Congress and the House of Representatives spoke at the rally, and even more sent statements of support, including Wisconsin Senators Ron Johnson (R) and Tammy Baldwin (D), and Pennsylvania Senator Patrick Toomey (R), Rosa DeLauro (D-Conn.), Adam Smith (D-Wash.), Bill Pascrell (D-N.J.), Rush Holt (D-N.J.), Gwen Moore (D-Wis.), Keith Ellison (D-Min.), Paul Tonko (D-N.Y.), Leonard Lance (R-N.J.), Gerald Connolly (D-Va.), Joseph Heck (R-Nev.), Reid Ribble (R-Wis.), Vicky Hartzler (R-Mo.), Robert Pittenger (R-N.C.), Rep. Lynn Jenkins (R-Kan.), Ileana Ros-Lehtinen (R-Fl.), Donald Payne (D-N.J.), Sam Farr (D-Calif.), Blaine Luetkemeyer (R-Mo.), former White House senior advisor in the George W. Bush administration, Bob Baltazar, Kansas Congresswoman Lynn Jenkins, New York State Senator Tony Avella, California Congressman Dana Rohrabacher, Chairman of the Human Rights Committee of the House of Representatives, Congressman Chris Smith, Robert Menendez (N.J.), and Bill Foster (D-Ill.).
Several Humans Rights organizations were also represented at the rally, such as the Religious Liberty Programs at the Institute on Religion and Democracy, Martha Flores-Vazques, the District Leader in Queens County, New York, and Executive Director of Community Prevention Alternatives for Families in Crisis, Yi Rong, president of the Global Service Center for Quitting the CCP, Dan Fefferman, president of the International Coalition for Religious Freedom, William J. Murray, chairman of the Religious Freedom Coalition, Chloe Schwenke, vice president of global programs at Freedom House, Suzanne Scholte, president of the Defense Forum Foundation, and Wang Zhiyuan, the spokesperson of WOIPFG (World Organization to Investigate the Persecution of Falun Gong).