260 China rights lawyers protest detention of fellow lawyer
By Alison Sacriponte, December 14, 2014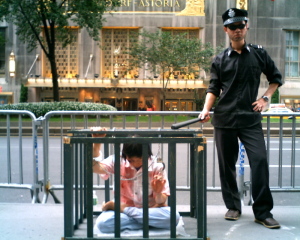 [JURIST] Two hundred sixty Chinese lawyers signed an open letter condemning police action in the northeastern province of Jilin where a lawyer was detained after invoking the constitutional rights of free speech and religion in court. The lawyer, Zhang Keke, was taken from court and detained for six hours over his statements in court defending a member of the banned spiritual group Falun Gong [group website; BBC backgrounder]. The lawyer had been warned by the judge not to invoke the law when defending his client. The protesting lawyers argue [AP report] it violated the basic rights of lawyers.
China's Communist leaders banned Falun Gong in 1999 trying to control spiritual movements and there have been numerous human rights issues since. In April 2013 a group of lawyers signed a letter [JURIST report] calling on the Jinjiang People's Court [official website] to explain why it detained a lawyer who defended the Falun Gong. The court simply responded by stating that the lawyer had violated a court order. In 2010, two Chinese human rights lawyers were disbarred after representing Falun Gong. Amnesty International [advocacy website] criticized the disbarment hearing [press release], calling it "absurd" and claiming that "[g]overnment authorities in China continue to harass and disrupt the work of lawyers taking politically sensitive cases."
JURIST (http://jurist.org) is a web-based legal news and real-time legal research service powered by a mostly-volunteer team of over 60 part-time law student reporters, editors and Web developers led by law professor Bernard Hibbitts at the University of Pittsburgh School of Law in Pittsburgh, Pennsylvania, USA.
JURIST is produced as a public service for the continuing legal education of its readers and law student staffers, and uses the latest Internet technology to track important legal news stories and materials and present them rapidly, objectively and intelligibly in an accessible, ad-free format.