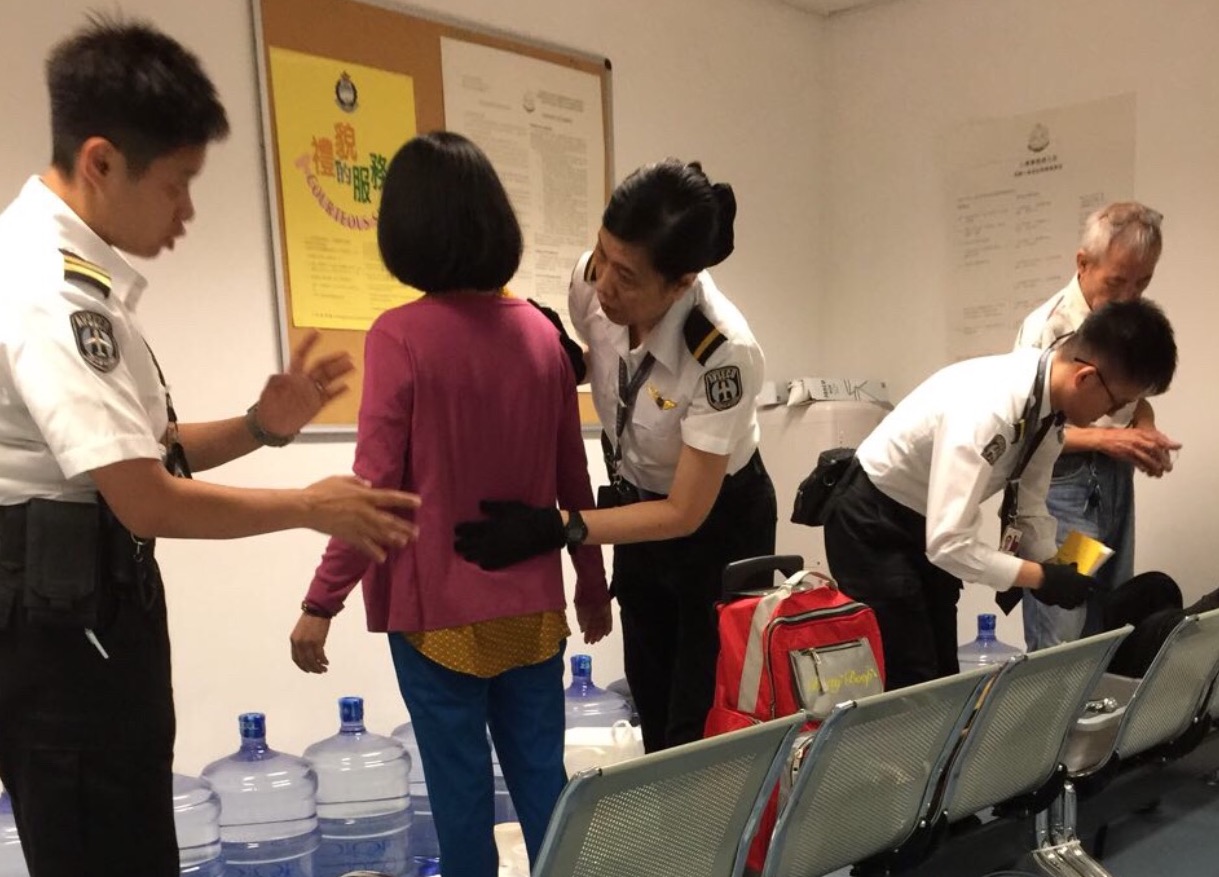 2017 Update: What's Changed in China's Persecution of Falun Gong
[Photo Caption: Airport security officers perform a thorough pat-down of a Taiwanese Falun Gong practitioner before forcing her to board a return flight to Taiwan. (Radio Free Asia)]
As the Chinese Communist Party's persecution of Falun Gong enters its 18th year, Chinese officials' behavior toward practitioners seems to be a mixed bag. While the regime has not reversed its order to "eradicate" Falun Gong practitioners, the genocide has slowed across China's provinces, albeit in patches, according to the sympathy or brutality of those in power locally.
Released Without Charge
First, the good news: The Epoch Times reports that in the first half of the year, 54 practitioners were released without charge—that's likely 54 more than at the height of the persecution, when practitioners were kidnapped from their homes, workplaces, and public areas indiscriminately and incarcerated without so much as a show trial. In other words, some police continue to arrest Chinese citizen for their chosen faith, but some courts are refusing to give these charges the time of day.
This positive development does not come about by accident, but through the continued work of advocates inside and outside of China. The article reads:
A local procuratorate in Henan Province returned the case of four Falun Gong practitioners to the police in late July, citing "insufficient evidence." Their families, lawyers, and fellow Falun Gong practitioners in China and abroad had pressured the authorities, demanding their immediate release after they were arrested in March.
Compensation for a Death
Also hopeful news: For the first time ever, a Chinese court ordered that the family of a practitioner who died in custody be paid significant reparations. According to NTD, in 2012 Xu Chensheng was pronounced dead just 14 hours after she was arrested for giving out pamphlets about Falun Gong. She was subject to horrific torture in her final hours. Her family was given $47,500.
The families of persecution victims have been compensated before, but mostly in the form of hush money. Never has a court ruled that compensation be paid in this way. But, as is the case with all monetary reparations, we must ask whether justice is truly served, or can be served. At the very least, this event represents the willingness of a judge to consider death from persecution within the scope of law.
Hong Kong Blurs the Lines
Then there's some truly embarrassing behavior from the government of Hong Kong, an ostensibly free jurisdiction of China. While the British colony was returned to communist-ruled China in 1997, Hong Kongers have retained their freedoms granted by the crown and the agreement of "one country, two systems" has been in effect. The same policy applies to Taiwan, which has its own democratically elected government, but is seen by the CCP as a rogue province.
So how is it that 43 Taiwanese practitioners traveling to Hong Kong last month were detained, searched, and interrogated at the Hong Kong airport for hours before being sent back to Taiwan, despite their not having done anything illegal?
According to Epoch Times, this has happened before.
This was the largest incident of its kind since 2007, when Hong Kong authorities violently evicted at least 800 Falun Gong practitioners. Hong Kong authorities have sporadically blacklisted and repatriated Falun Gong practitioners since 2001.
But the fact that it continues to happen means that authorities inside Hong Kong's various agencies have kowtowed to the Chinese Communist Party, and are complicit in its unconstitutional treatment of Falun Gong. Will Hong Kong's people stand for their government blurring the lines between their free territory and the Party-controlled Mainland? Time will tell.