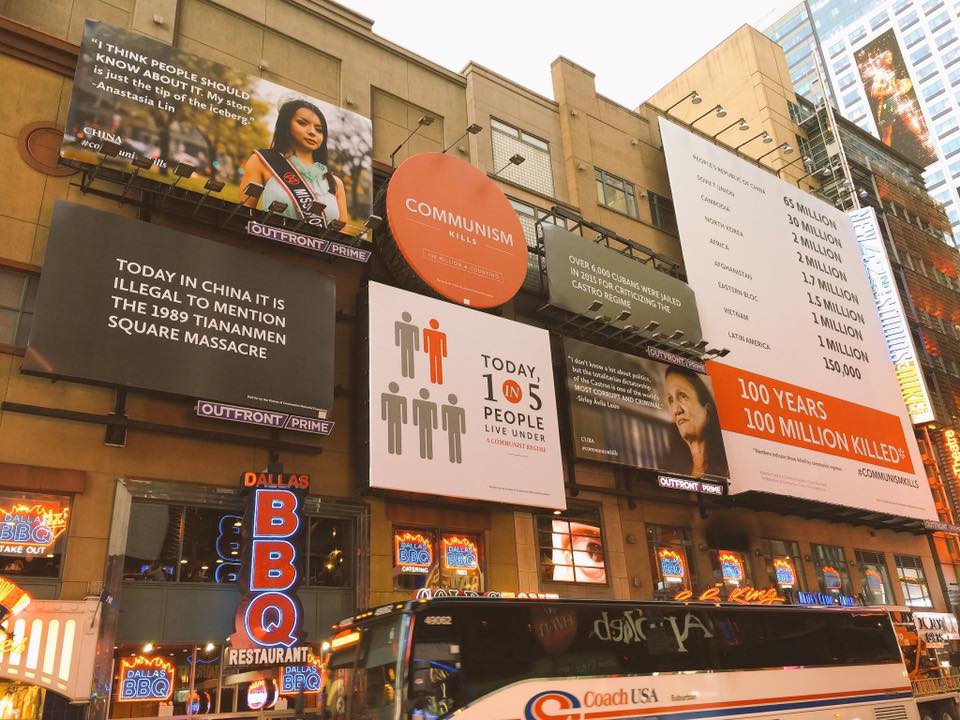 Billboards About Communism's Death Toll Appear in Times Square, NYC
A series of billboards appeared in Times Square as part of a Victims of Communism Memorial Foundation campaign. The Foundation is a Washington, D.C.- based organization dedicated to educating the public about communism's legacy worldwide.
The billboards note that today, 1 in 5 people on earth live under communism; that it remains illegal to mention the 1989 Tiananmen Square massacre; and one billboard lists the deaths caused by communist regimes by country. China tops the list at 65 million.
One billboard features Anastasia Lin, the winner of Miss World Canada in 2015. She was barred from competition in China because of her position supporting freedom of belief for Falun Gong and other faiths in China.
"I think people should know about it," her billboard reads. "My story is just the tip of the iceberg."
Lin will speak on the subject of Chinese human rights as part of the Foundation's China Forum on Oct. 20 in Washington, D.C. In June, Friends of Falun Gong laid a wreath commemorating the wrongful deaths of Chinese Falun Gong practitioners as part of the Foundation memorial ceremony.