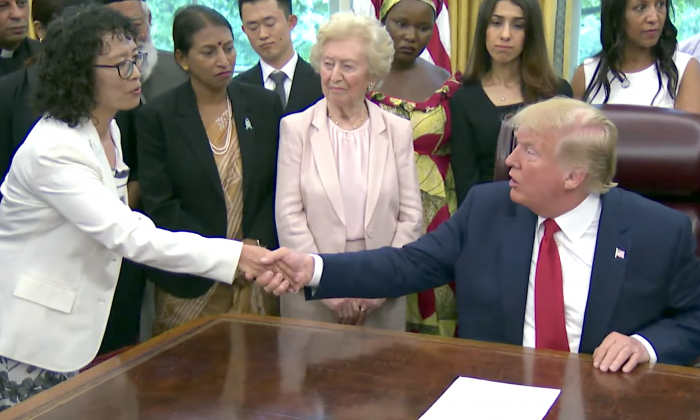 Falun Gong Practitioner Tells Trump Her Persecution Story
Dr. Yuhua Zhang, a former professor at Nanjing Normal University, had the opportunity to share her experiences with President Donald Trump on July 17 at the White House. Dr. Zhang is a Falun Gong practitioner who survived 7.5 years of torture at the hands of the Chinese communist regime, in an effort to make her renounce her faith.
The event was attended by 27 survivors of religious persecution from 17 countries, including China, North Korea, Iran, Pakistan, and Burma. It was held in as part of the Trump's administration's effort to defend religious freedom worldwide, and is part of the Ministerial to Advance Religious Freedom conference hosted by the U.S. State Department.
It was the first time during the 20-year crackdown on Falun Gong that a sitting U.S. president has personally heard the testimony of a Falun Gong practitioner.
Dr. Zhang has personally endured electric shocks, sleep deprivation, forced injections of unknown drugs while imprisoned for her faith. Her husband Zhengyu Ma is still currently in prison for sending letters to the Chinese regime's leaders calling on them to end the persecution. She fears that he may become a victim of forced organ harvesting, and hopes that the U.S. and international community can help put an end to the persecution.
Read the full report here.