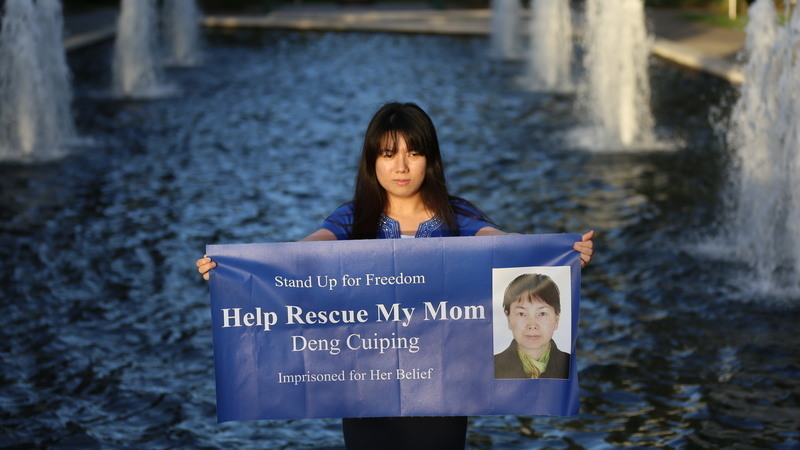 Florida Woman's Mother Tortured in China for her Faith
A CPA working in Tampa, Florida is calling on Secretary of State Rex Tillerson to help free her mother, who lives in China amd was sentenced to six years for the fact that she practices the meditation Falun Gong.
Rooted in ancient Chinese spiritual traditions, Falun Gong espouses the universal principles of truthfulness, compassion, and tolerance in its practice and became popular in the mid-1990s. Its popularity attracted the resentment of the Chinese communist regime, which launched a genocide to wipe out the practice. Since 1999, thousands of practitioners have been unlawfully arrested and tortured in state custody despite having committed no crimes.
Iris Lu says her mother Deng Cuiping was fired from her work twice for being a Falun Gong practitioner, and sent to prison for three years (2006-2009), where was was tortured and forced to undergo brainwashing. The family did their best to petition for her release but were threatened by officials.
Last February Deng was again captured and sentenced, and remains in peril at the same prison where she was previously held. Lu has garnered the help of her state Congressman Dennis Ross and is calling for the Secretary of State and the Trump administration to put pressure on the Chinese regime for Deng's release.
"I have been working hard here in hopes that one day I will rescue my parents out of the endless hell in China and bring them to America," Lu wrote on her petition on Change.org. "I dreamed that we would build a new home in this land of freedom and my mom would have a quiet, secure life in her older age. This dream that once seemed within reach has now been shattered."
Sign her petition here.