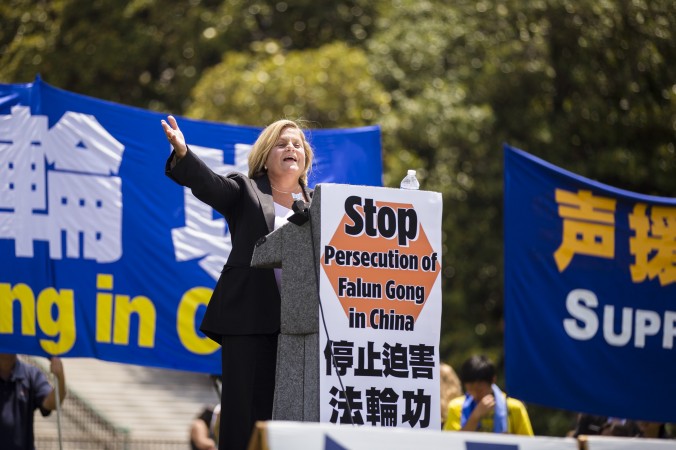 House Resolution Aims to Set the Record Straight on Chinese Holocaust
Representative Ileana Ros-Lehtinen of Florida and Representative Gerry Connolly of Virginia have introduced a House resolution to condemn China's practice of harvesting organs from Falun Gong practitioners and other prisoners of conscience in China: H. Res. 343. The resolution expresses concern regarding persistent and credible reports of systematic, state-sanctioned organ harvesting from non-consenting prisoners of conscience in the People's Republic of China, including from large numbers of Falun Gong practitioners and members of other religious and ethnic minority groups.
Upon submitting the resolution, Rep. Ileana Ros-Lehtinen stated that the "Chinese regime's gruesome practice of organ harvesting from Falun Gong practitioners and other prisoners of conscience is a barbarous violation of human rights and must be stopped." She urged all members of the House of Representatives to cosponsor the resolution.
Rep. Connolly also released a statement saying that "this resolution advocates on behalf of their basic human rights and freedom and I hope my colleagues will continue to support strong advocacy on behalf of Falun Gong practitioners."
In the 113th congress, the same issue was raised with H. Res. 281, which gained 245 cosponsors in a bi-partisan effort; however, after unanimous recommendation by the House Foreign Affairs Committee, it was never scheduled for voting.
Internationally, there is growing support to expose and end forced organ harvesting crimes in China. The Israeli Knesset enacted a law forbidding Israeli citizens from obtaining organ transplants in China. The European parliament, in 2013, passed a resolution recognizing and condemning the practice of forced organ harvesting in China. Also in 2013, the Italian Senate Commission passed a binding resolution regarding the issue. There have also been state level resolutions in the U.S.
The world can no longer stand idly by, ignore these acts, or pretend that they are not happening. Friends of Falun Gong calls on all United States congressional representatives to cosponsor H.Res.343, and for the resolution to be voted on, and passed, by the House of Representatives.